When selling your Blue Springs home, don't rush into signing with an agent until you run some numbers and learn about all of your options. There are many costs of listing with an agent, sometimes one agent will charge more or less than another. Educate yourself on all scenarios before you sign a listing agreement that binds you to an agent!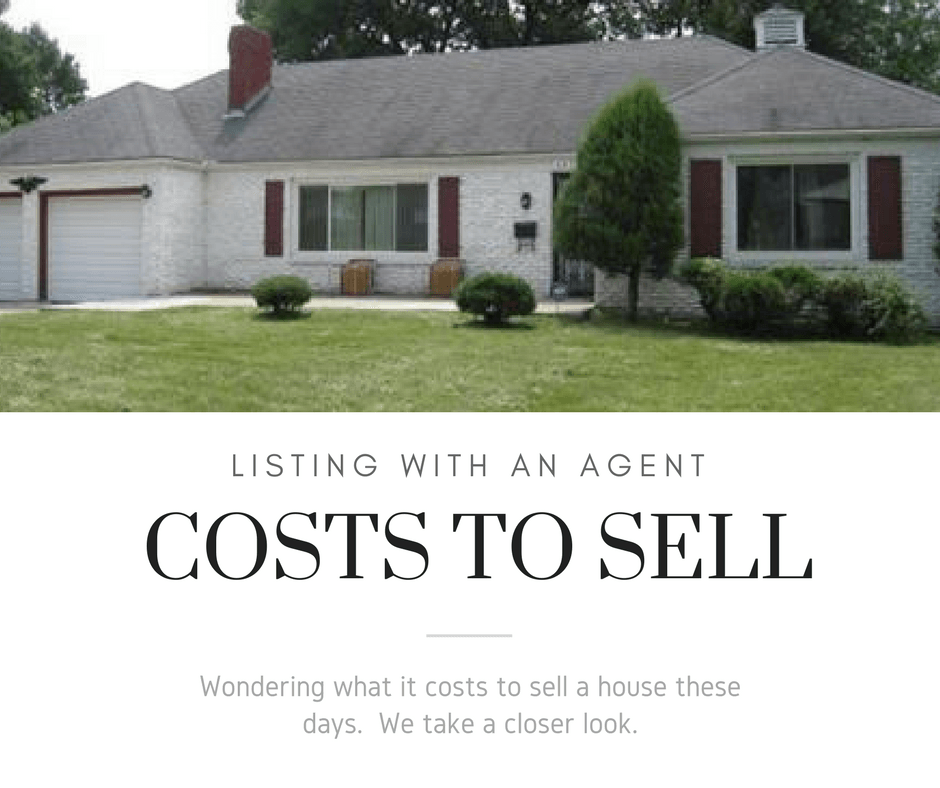 What are the cost of listing my home with a Realtor in Blue Springs
Commissions - 6%+ of the final sale price
Commission fees are usually paid in full by the seller. The percentage can vary but is typically around 6%. Some agents will also negotiate on their commission. For example, if you are buying a new home, they might negotiate a discounted listing commission. However, if you have an agent that will negotiate for a lesser commission, that you may be getting a lesser service. We often talk to seller's who had gone with a discounted listing with a friend or family member only to find that the friend or family member did not know the area, didn't know how to market their home, especially a fixer upper home, and in the long run the friend or family member did not get the home sold.
Here at Realty Resource, we don't usually discount our commission, but we also don't charge extra. We treat all listings as if they were our own property and maximize the details and photos on all online listings so all buyers, no matter what website they are searching on will be able to find your home, see it online and then ask their buyer's agent to show it to them.
Administrative Fees - usually $200 to $400
In addition to commissions, agents will often have administrative fees they tack on top of their commission. You see in many offices, there is an administrative assistant that looks over the paperwork. The brokerage wants to maximize their profits, so the fee for this assistant is passed off to the agent to pay out of the 6% plus commission they are charging. However, they too can pass that fee on to the seller. Note that not all companies do charge this fee and many agents look at this fee as the cost of doing business. So be sure to shop around.
If you sell list with us, there are no admin fees. We fell that admin, secretary or VA staff are all a cost of doing business and not something to up charge our sellers.
Inspections - At least a few hundred dollars
Typically a buyer will pay for the inspection as part of the closing costs, however, as a negotiation tactic, more sellers are inspecting their home themselves and making repairs before they put it on the market. Do keep in mind that any inspections are done by you as the seller or by any potential buyers, once they are done, they are disclosable items when marketing the home. So if you have a potential buyer who does an inspection and then finds some major item that needs repaired that you didn't already know about, that if you don't work with the buyer and negotiate an agreeable way get the transaction closed, that you would then have to disclose that costly repair item to any future potential buyers.
We don't typically recommend our seller do inspections before listing, however it is a way to find out what's wrong, fix it and present the best possible property to the buying public.
Appraisals - A few hundred dollars
Often times this will be the responsibility of the buyer. If a buyer is working with a lender, the lender will require the house be appraised before the deal is finalized. However, the appraisal cost can be negotiated, and ultimately be paid by the seller.
In some cases, sellers will have appraisals done on their own as a negotiation tactic for a sale. If any appraisal is done on your property, make sure you keep a copy for your records.
Getting an appraisal in advance is up to you, however, we don't recommend..
Cleaning - $250 and up.
When selling your house, it needs to be clean. Like really clean. You should have a deep cleaning done on the house or clean it yourself from top to bottom. Open houses, surprise showings, and people stopping by to see the home will require the house be clean 24/7. If your schedule is already pretty busy, keeping your home in tip-top shape may require some outside help. The pricing will vary depending on the size of your home and the level of cleaning to be done. You can expect $250and up per cleaning.
We do recommend getting your home professionally cleaned before you list. This includes steam cleaning floors and bathrooms, decluttering and organizing closets, cabinets and drawers, washing windows, cleaning blinds and shades and light fixtures and trimming up the yard. This will make you home show it's best.
Staging - $0 to a few hundred
Maybe your home is already decorated with new hand towels, candles, bright colored throw pillows and selectively placed houseplants. If so, good for you! For the rest of us, really giving your home that "straight out of a catalog" charm will take a little work. This doesn't have to cost a ton, there are some great ways to DIY or find deals at a big box store. No matter what you do, make sure you keep your space tidy and pulled together. If interior decorating isn't your speed, have a friend help, or consult Pinterest. A few small pieces will bring a room together and make it really feel like a home.
If you are going to hire a staging company, be prepared to spend about $1500 to $3000.
We do recommend at bare minimum talking to friends and having them look at your house to recommend staging changes. While buyers are not buying your furniture, if it does not look new and updated, it may affect the photos of the home, create fewer showings and make it harder to sell.
Repairs - Varies

As mentioned above, repairs will need to be negotiated between a buyer and a seller. As a seller, if there are repairs you are aware of, it is best to acknowledge them and let potential buyers know these costs have already been calculated into your asking price. Come to the table with a credit for repairs so the buyer feels secure about purchasing the home. If new repairs come to light after an inspection, these will need to be taken care of and terms agreed to before the sale becomes final.
Making repairs makes it easier to sell. But we find that most homeowners don't have the time or money to make repairs and often if they make the repair, it's not quite up to professional standards and it does not show well.
If your home needs extensive repairs and you don't want to deal with the repairs, the cleaning or the staging, you might reach out to our sister company kcmoHomeBuyer.com to see what they might offer you to buy your home all cash and closing in a few weeks. They buy homes as is and you do nothing but hand over the keys.
Bills While The Home Is On The Market - Varies (Can be hundreds or even thousands!)
Even if you have moved out of your home while you have it on the market, you will still need to keep the utilities on. When you list, there is no way of knowing how long it will take for your home to sell. It could be months! In addition, you are responsible for the property taxes and homeowners insurance up until the day of closing. If your home sits on the market for any amount of time, (as many do) these bills can add up to a small fortune! Plus if your home is in an area that has home owner association dues, well you have to pay those too.
Vacant Houses
We wanted to also offer some words of caution on vacant houses. First, a vacant home is a target for vandals. So be sure to make it looked lived in. Have a few lights on timers so they go on and off through out the day and evening. Have the neighbors park in the driveway. Second, if the home sits for any length of time, the insurance may no longer be valid. Typically, after 30 days of the vacancy, the original owner policy no longer offers coverage, even if you are keeping the bill paid, so be sure to check with your insurance agent.
So when you have a Blue Springs property you want to sell,take a minute to contact us and tell us a bit about yourself, your situation and your home. We can visit with you and schedule a consultation to tell you what we think the home would sell for as it is right now, get you a bid from our sister company kcmoHomeBuyer.com, and offer you options for listing it and getting it sold quickly.